The Familius Christmas Anthology: Just for Kids
Ever wondered how to create some fun family time with your kids around Christmas? Never fear! Last year I worked on the annual Christmas anthology from Familius, and I did it again this year. Packed with Christmas stories, holiday songs and poems, wintery recipes and child-appropriate activities, the anthology this year was a bundle of fun to put together.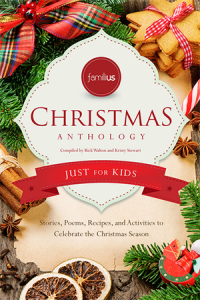 The recipes and activities were my realm of creation: Rick Walton gathers the stories and poems and helps me rank the best of them, and I put it all together. This year, instead of grouping all the stories together, all the poems together, and so on, we grouped one item from each category together according to a theme. In theory, you could use these groups to center an entire night around a single theme. Themes range from silly to thoughtful, so you can vary them according to what your little ones can handle on any given day in December.
Right now it looks like the book is only available in its paperback form (which, given the recipe-and-activity nature of the book, I think is a huge step up from the ebook-only run we had last year). You can get it from …
Enjoy the book and tell your friends. I will be posting a giveaway page soon so I can share some of these awesome author copies I have!