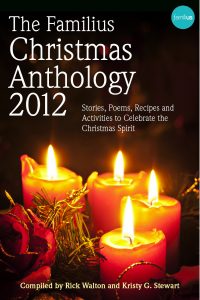 Remember not too long ago when I mentioned I had a book coming out? Well, now it's out! Actually, it's been out for a few weeks now, but it took awhile for it to post to all the major stores. I give you The Familius Christmas Anthology 2012, compiled by yours truly and Rick Walton:
Christmas is a time for family and there's no better way of helping your family enjoy the Christmas spirit than by taking time each night to explore the annual Familius Christmas Anthology. Filled with stories, poems, recipes, and activities to make Christmas time enjoyable, this collection is literally stuffed with feel-good content and activities that will bring your family together. The stories include such favorites as the "The Gift of Magi" by O'Henry to the moving "The Child Who Had Everything But—" by John Kendrick Bangs. The anthology also includes favorite poems like "Long Ago" by Christina Rossetti and, of course, "God Rest You Merry, Gentlemen," among many others. And delicious family favorite recipes provide an invitation to spend time at the family table, whether you're enjoying Spiced Sugar Cookie Truffles or a simple pot of White Hot Chocolate. And don't forget to round out your Christmas holiday with family activities like building Graham Cracker Cottages or playing Jack Frost Tag. The Familius Christmas Anthology is a fantastic way of enjoying this wonderful holiday and making sure your family enjoys it, together.
I love Christmas, and I'm happy to have been a part of putting this anthology together. The whole point of the anthology is the help families enhance the holiday time they spend together. I've always loved spending time reading stories and baking with my family around the holidays. (When I lived at home we used to light candles and read a Christmas story every night in December.) This year, I'm looking forward to starting some family traditions of my own with my husband and my son (even if the little guy will only be a couple months old by the time Christmas day rolls around). Maybe this little book can help you with some traditions of your own.
The book is currently available as an ebook from all major ebook sellers.
(These are not affiliate links.)