New Project: The Folklore Historian, Volume 29
My most recently completed editorial project isn't technically a Looseleaf project—I'm the temporary managing editor for this one, not a freelancer, exactly—but I wanted to share it anyway. The last project was a novel, but this one was a scholarly journal focusing historical approaches to folklore (or folklore in a historical perspective). I present volume 29 of The Folklore Historian, a member of the American Folklore Society's family of publications.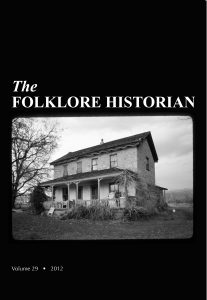 I didn't do all the work on this issue. I took over at the beginning of the semester, so I proofread the final text, managed final revisions with the authors, laid the journal out in InDesign, designed the cover, and took the files to and checked the proofs from the press.