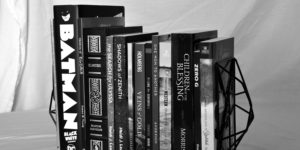 Welcome to a new year from Looseleaf Editorial & Production! Thank you all for a lovely 2019 spent helping you get your books reader ready. I love working on your books!
With the starry-eyed new year come a few changes for Looseleaf. The most notable is that rates for editing and book design have been adjusted slightly. The rate changes are listed below. These changes will not affect any existing contracts! The new rates go into effect for all contracts written on or after February 1, 2020. (There are also some changes that are a little more fun, listed after the rates changes.)
Please let me know if there are any questions or concerns I can address (or if you'd like to hurry and schedule some work before February hits). Your business and your stories are important to me.
Book Design Rates
Interior book design package rates will change slightly. These are starting prices only. For quotes on specific projects, submit a book design quote request.
Classic (simple text and chapter breaks; 1 custom extra)
All-inclusive: Starting at $500 (formerly $490)
Ebook Only: Starting at $225 (formerly $200)
Print Only: Starting at $340 (formerly $320)
Bonus (simple text and chapter breaks; up to 3 custom extras)
All-inclusive: Starting at $560 (formerly $540)
Ebook Only: Starting at $250 (formerly $220)
Print Only: Starting at $410 (formerly $390)
Top Shelf (unlimited custom extras, headings, and pull quotes)
All-inclusive: Starting at $610 (formerly $590)
Ebook Only: Starting at $275 (formerly $250)
Print Only: Starting at $460 (formerly $440)
Cover design packages will continue to start at $100 + license fees for stock material; hourly design work for bookmarks and swag will remain at $45/hour, and fixed-layout ebook pricing will remain the same ($75 + $1.25/page for comics and $200 + $1.25/page for cookbooks).
Editing Rates
First 50 Pages Evaluation: $125 (formerly $100)
Full Manuscript Evaluation: $500 for up to 100K words (additional fees for longer works; formerly $450)
Copyediting: $0.013/word (formerly $0.012/word)
Line Editing: $0.03/word (formerly $40/hour)
Developmental Editing: $0.065/word for two passes on a completed manuscript or $50/hour for development for outlines or partial manuscript (formerly $45/hour)
Proofreading: $0.0095/word (formerly $0.0085/word; this service is available only for projects that have already been professionally copyedited)
Indexing: $5.50/page
Submission Package Consultations: $35/hour (formerly $30/hour)
Other Changes
This year brings a couple other changes.
Looseleaf is going to start giving you the option to provide your mailing address when you sign on with us. This will primarily be for sending a thank-you gift after your project, and your mailing address will never be shared outside of Looseleaf or used for mass mailers.
Kristy, primary editor, designer, and owner here at Looseleaf, has changed her name from Kristy G. Stewart to Kristy S. Gilbert.
Thanks for a wonderful year, and good luck with your wordsmithing in the year (and decade) to come!