Yearly Book Traditions
Now that it's after Christmas, I am going to indulge in one of my yearly book traditions. In addition to reading whatever books my family have been so kind as to give me, I'm also going to read Susan Cooper's The Dark Is Rising. I'm going to read it before January. Why?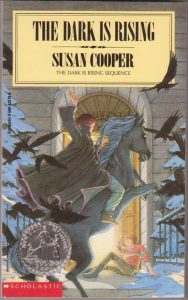 Well, primarily because it is traditional. Secondarily, I read The Dark Is Rising every year because it is a book I love dearly. The book, and the whole Dark Is Rising sequence, is something I can easily fall into an immerse myself in. It's an enveloping kind of book that completely transports me into the realm between its pages. I like to increase that feeling of immersion by reading this book during the time in which it takes place. The majority of the action in The Dark Is Rising occurs in the twelve days following Christmas. Being surrounded by snow while the English countryside of the story descends into winter makes the book that much more powerful. (This tradition isn't hurt by the fact that my grandma, who has since passed away, was the one who gave me my copies of Susan Cooper's sequence.)
The Dark Is Rising isn't the only book I reread every year. I tend to reread The Last Unicorn (I explain that in this post about Peter S. Beagle), The Things They Carried by Tim O'Brien, Ella Enchanted by Gail Carson Levine, and Night Watch by Terry Pratchett.

Ella Enchanted is pure delight, a smooth read, and it only takes me about one sitting to read it cover to cover. It's easy to come back to as a comfort read. It's like good macaroni and cheese.
All the other books have a certain way of enveloping me, of making me feel things deeply. They all wound, enlighten, and enlarge me in powerful ways. Along the way, yes, Pratchett makes me laugh; yes, Beagle charms me with his descriptions; yes, O'Brien systematically questions my trust in narrative truth. But the thing they share in common is that these books have heart to them, and I compulsively return to that living heart year after year.
Are there any books you read yearly, or are there just a few books you keep around for rereading? Or do you eschew rereads?